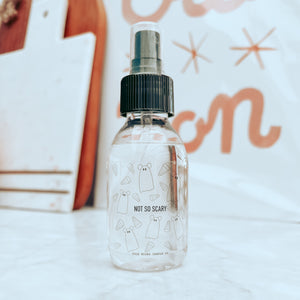 Not So Scary Room Spray
Regular price $0.00 $10.00 Sale
Not So Scary - Spooky but make it cute! The ultimate cosy candle for a night in, scents of being wrapped in a warm blanket with sweet cashmere musk, orchid, jasmine & vanilla. 
Introducing our brand new room sprays! Our light mist room sprays are perfect for getting an instant burst of magic into your home! Perfect to keep in any room when you need reminding of the magic & for those quick spritz moments when you are due unannounced guests! 
Our bottles contain 100ml of room spray which are long lasting due to the fine mist spray nozzle. Ensure to shake gently before use. 
Our room sprays are skin safe but please do not spray directly near pets for extra safety. Do not spray directly onto polished surfaces or real wood. May make hard floors slippy so take care using on hard floor areas. Our sprays can be used on linens but please do a patch test on linens in a non noticeable area to be sure safe for use. We cannot guarantee all linens are the same to which we have tested on. 
- No animal by products are used within any Dole Wicks products.
- None of our ingredients are tested on animals (Cruelty free)
- All our packaging is now fully recyclable or biodegradable.

Please always check our shipping information page for dispatch and delivery times before purchasing. I hand make all our products so despatch times vary.