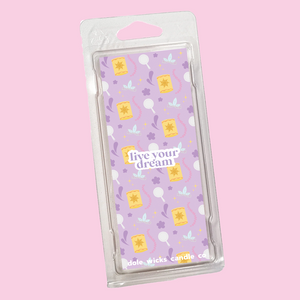 Live Your Dream Wax Melt Bar
Regular price $0.00 $6.00 Sale
Live Your Dream - Tangled fans? This insanely gorgeous scent is what I can imagine Corona would smell like! A fruity lychee fragrance with undertones of light peony florals.
Candles
Our highly scented candles are made with a soy blend wax, cotton wick & re usable jar.
Due to being hand poured in small batches, slight colour variations may occur.
Our candles measure; Standard 8cm high 6.5cm base diameter. Large 9cm high 7.5cm base diameter.

Remember to trim your wick to 1/4 inch before each burn, always use a heat protected surface such as a coaster and never burn a Dole Wicks candle for more than 4 hours. If the flame is getting too big put it out, wait to cool and trim the wick.
Never leave a burning candle unattended and always read our candle care page before using your new Dole Wicks candle.
Room Sprays 
Our light mist room sprays are perfect for getting an instant burst of magic into your home! Perfect to keep in any room when you need reminding of the magic & for those quick spritz moments when you are due unannounced guests! 
Our bottles contain 100ml of room spray which are long lasting due to the fine mist spray nozzle. Ensure to shake gently before use. 
Our room sprays are skin safe but please do not spray directly near pets for extra safety. Do not spray directly onto polished surfaces or real wood. May make hard floors slippy so take care using on hard floor areas. Our sprays can be used on linens but please do a patch test on linens in a non noticeable area to be sure safe for use. We cannot guarantee all linens are the same to which we have tested on. 
Wax Melts
Our wax melt packaging is produced from mostly recycled plastic within the UK & is also 100% recyclable at kerbside pick up. Please recycle me after use. 
Our highly scented inspired 10 cube melt bars are made with a soy blend wax and are great for testing new scents or if you just prefer your burners to candles.
Just pop out the melt from the container and break off as many cubes as you wish depending on how strong you would like the fragrance.
Reed Diffusers 
With low maintenance our diffusers will give you an all day long scent throw of your chosen scent. Lasting up to 3 months, sometimes even longer! 
Our diffusers come in a clear glass filled with your fragrance and a gift-able kraft box. Each 100ml diffuser comes with 6 4mm x 240mm luxury natural rattan reeds. Bottle size 55mm dia x 115mm height.
Please note you will get the most of your diffusers in a small to medium sized room such as bathroom, entrance room, utility etc. Larger rooms may require more than one diffuser for the scent to fill the room. 
By purchasing a Dole Wicks reed diffuser you are adhering to the below safety instructions.
- To set up your new diffuser ensure stopper is secure, gently and carefully shake to mix the fragrance. To remove safety plug use gloves if possible to prevent skin contact with the oil. Fragrance oils may give an allergic reaction, if in contact with skin was off immediately and thoroughly with warm soapy water. Always remove the stopper over a stainless steel or ceramic surface where possible & avoid spillage. Oils will damage natural materials, polished surfaces and textiles. 
- Directly place reeds into bottle, for a more subtle scent you can remove reeds as desired. Every so often you may flip the reeds to refresh the fragrance throw. 
- Always place your diffuser out of reach of children and pets. Place diffuser on a non natural/polished/textile surface. Oils may stain and damage these surface types. If spillage occurs clean up immediately.
- Do not consume. If consumed seek medical attention immediately. Always keep the packaging with the ingredients for medical purposes.
- Keep away from direct sunlight or heat sources to avoid the reeds drying out and the oil evaporating too quickly. 
- Diffusers are extremely flammable. Keep away from naked flames, do not light reeds.
- Diffuser oils are not suitable for electric oil diffusers or humidifiers.
 Dole Wicks products are used at your own risk. By following these care instructions we are sure you will get the most out of your diffuser. Dole Wicks does not take responsibility for any damage caused as a result of misuse of its products.