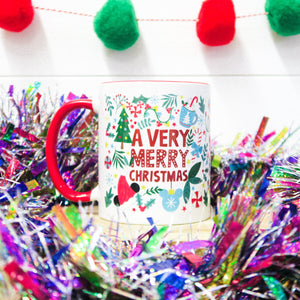 Very Merry Christmas 11oz Mug Red
Regular price $15.00 Sale
This listing is for the RED handle and inside.
It's time to get festive! We just had to create a Christmas mug filled with the most merriest things that remind us of being back at Magic Kingdom during the holidays.
It really is the most wonderful time of the year, we cannot wait to get cosy whilst watching Christmas movies with over the top hot chocolates in our new Very Merry mugs!

Our mugs are digital printed in the UK. Each mug holds 11oz and measures 96 x 82mm
The mugs are both dishwasher and microwave safe. The print is non fade however to minimise risk of any print fade & increase the longevity of your new mug hand washing is recommended.
The mugs will take 7 working days to be printed and sent directly to you from the printer, If you do not recieve your mug after 7 working days please email me directly and I can chase this up for you.

 By purchasing a mug you adhere to the safety instructions below. Dole Wicks do not take responsibility for damages or injury if the safety guidelines are not adhered to.
- Take care if microwaving, ceramic body and handle will get hot in the microwave. Handle with care and heat protective gloves.
- Do not place mug in oven, our mugs are not oven safe and will not with stand high temperatures without risk of breakage.