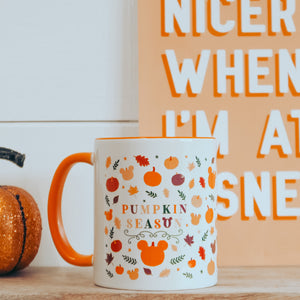 Pumpkin Season 11oz Mug Orange
Regular price $15.00 Sale
This listing is for the orange handle and inside.
It's pumpkin season! Finally we have created a mug, full of autumnal colours, pumpkins and a hint of magic. We have two options for you to choose from, 1 with an orange handle and inside with print, the other is white with print.  
Our mugs are digital printed in the UK. Each mug holds 11oz and measures 96 x 82mm
The mugs are both dishwasher and microwave safe. The print is non fade however to minimise risk of any print fade & increase the longevity of your new mug hand washing is recommended.
The mugs will take 7 working days to be printed and sent directly to you from the printer, If you do not recieve your mug after 7 working days please email me directly and I can chase this up for you.

 By purchasing a mug you adhere to the safety instructions below. Dole Wicks do not take responsibility for damages or injury if the safety guidelines are not adhered to.
- Take care if microwaving, ceramic body and handle will get hot in the microwave. Handle with care and heat protective gloves.
- Do not place mug in oven, our mugs are not oven safe and will not with stand high temperatures without risk of breakage.