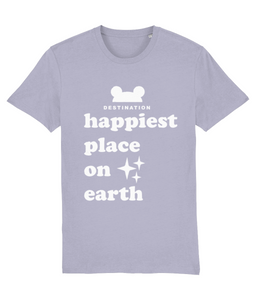 Lilac Destination Happiest Place On Earth Travel Day T-Shirt Unisex
Regular price £19.99 Sale
 Travel Day T-Shirts! FINALLY!
I am obsessed with our Happiest Place On Earth Tees! With travel day to the magic being my most favourite days this inspired the design. Our super soft tees are the perfect attire for any travelling, grabbing a coffee or a lazy day at home. 
- Unisex
- Super soft comfy 100% certified organic cotton. 
- Sourced ethically & responsibly from a certified supplier.
We can't wait to grow our sweatshirt collection in more colours and designs.
Please ensure you measure correctly for sizing, made to order products cannot be returned. If you need any help please do not hesitate to drop us a message.
If you require size 3XL, 4XL, 5XL please drop us an email & we can sort this for you.
If you prefer an oversized fit I would recommend sizing up once or twice.
Please note all our sweatshirts are printed to order and dispatched by a third party. If there are any issues with out of stocks with the supplier we will be in contact to rectify the issue. This should not happen however as we are not the main stock holder we cannot control any stock issues that may arise during difficult supply chain times.